About Course
What if – in years from now – you, your husband, your mum, your dad or your boy can pull out a Mini Book from the cupboard and go through all the stories you've preserved for him with you? What if you all can sit together and indulge in memories, laughing about stories which have been nearly forgotten, have a cup of coffee together and enjoying these long-gone days?
Sometimes we scroll through our photo feed on our mobile and all of a sudden the one or other memory comes back – but – without "words" we more often than not do not really remember the story behind the picture. We quickly snap a photo and yes, we do that all day, and at that moment they are important to us. But then, after a few weeks, months or even years, they are forgotten in the feed and sooner or later nobody remembers the context anymore.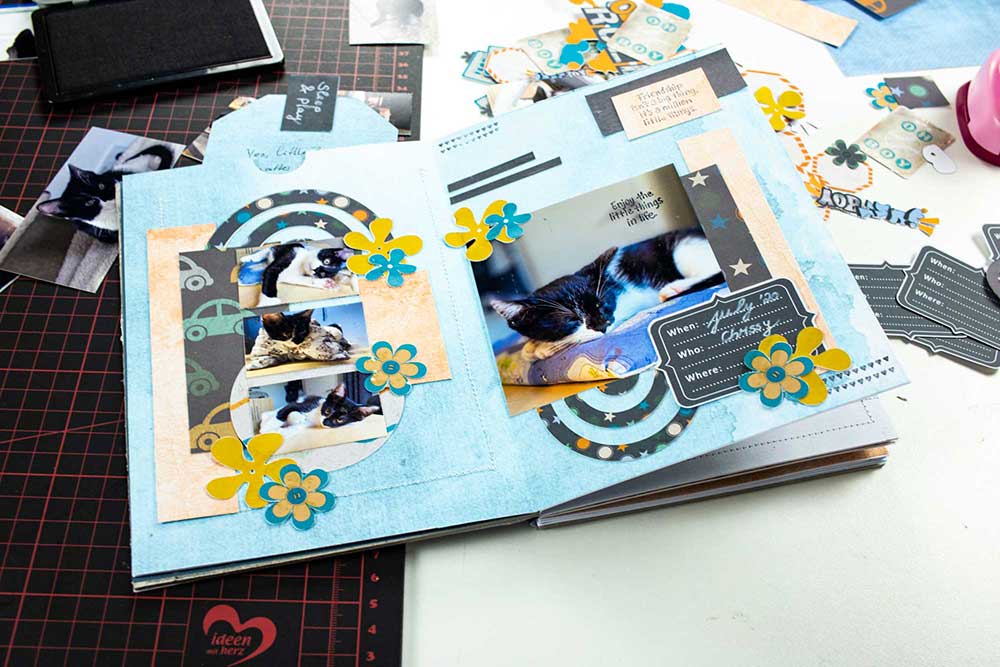 When my grandma died in 2000 I tried to gather all the pictures from her I could. That was long before the digital age and pictures, beside those from vacations, were rare. I found quite some but it is never enough when you miss a loved one.
That's when I promised myself that I'd always have enough pictures of the everyday life from the people I love. And that was when I started scrapbooking. And memory planning. And therefore my website – and never looked back.
Today I have nearly 15000 digital pictures in my cloud and sure, I do not print them all but hey, I do and I create layouts and I make Mini Albums and I love to make a "Scrapbook Evening" every now and then and pull out all the Mini Albums and have a sit-in with my loved ones.
And – they enjoy indulging in memories as much as I do!
I get it though – we will never have time to scrap each picture we take over the years. We will never have enough money to buy all the supplies we would like to have and we will never use all the supplies either! And that's where hybrid scrapbooking comes into play – we can use digital supplies, print them when we need them and scrap whenever we feel like because – we won't have to take long hauls to gather all the supplies needed! They are already there, prepared for you to print out and start crafting!
In this class we digg deep into creating a super easy Mini Album – you just need a few pieces of paper, no book binding tool or anything – a few papers, a chipboard and adhesive are enough!
And that is why the fun begins with this class. We have it all inside. From high-quality printable to detailed instructions – written and in video format – you get it all.
So whenever you decide to scrap something you can just come over to the class, download whatever you need and start doing your next scrapbook adventure!
In this Mini Album class I use photos from our Baby Cat "Chrissy" because he is just a new addition to the family and I wanted to create this Mini Album for my Mum as a memory of the time when Chrissy was a baby. I know it's "just" a cat (who means the world to us) and not a child but these are also memories which are worth to be preserved, aren't they?
Features
8 Video lessons (approx. 35 minutes) – I show you all the material you need as well as different scrapbook layouts so you are never stuck even if you are a beginner in Scrapbooking or creating Mini Albums
A detailed step-by-step eBook (12 pages) to print out and follow along the book creating process
4 cut files (2 sheets of elements to decorate your book), 1 sheet of circles as additional embellishments and one sheet of tags to cut out on any paper you like. These are files for your Silhouette Cameo but…
… you also get all PNG files separately so you can create cut files for any cutting machine you have.
You also get the elements and circles as a PDF to print and cut them yourself
You also get 12 different patterned papers to make not just one but many different Mini Albums!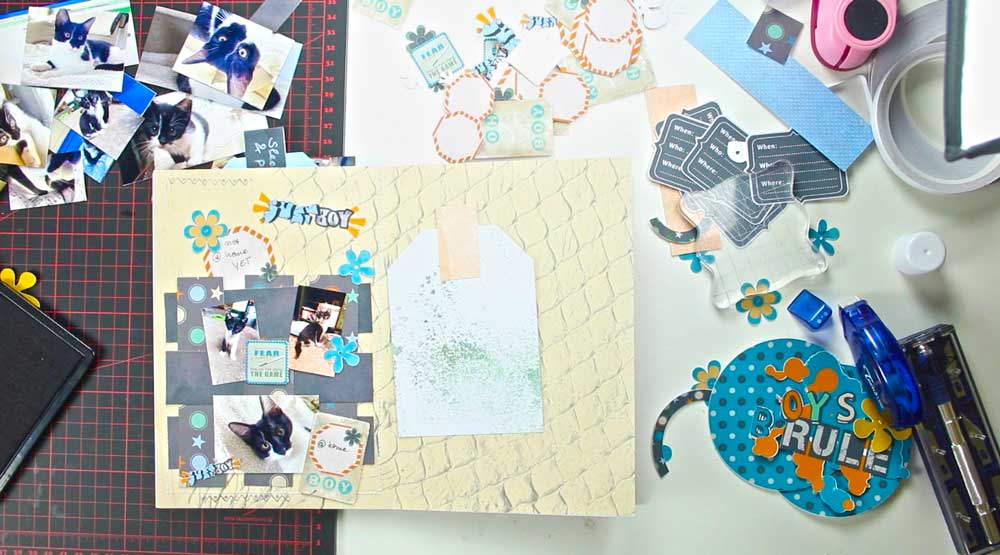 With the Baby Boy Mini Album Pack you can't go wrong. You have all the instructions you need, you have all the papers, elements and even cut files you need and you can start right away with no more than a few printed papers, a piece of chipboard, a scissor and adhesive tape (minimum requirements).
What the Mini Album Class does for you:
The lifetime access to this class will give you peace of mind! If you lose your files come back and download them again. If you can't remember how to create an easy Mini Album or need a layout idea – join back into the class.
High quality print files will make your Mini Albums look like professional albums and a great gift for your loved ones!
You don't get just ONE Mini Album but you can create many different ones and many different layouts with the elements included
Even as a beginner you are never stuck – you can always contact me and also follow our layout videos you can start with
The Mini Albums with all your family's memories you'll create today will not just impact your life today and give you countless hours of family time going through your beautiful albums but also help your loved ones remember long gone times and let them show those to their kids.
Show More
Student Ratings & Reviews
No Review Yet