With convenience at the core of today's society – photo editing on the go is an essential for most creatives. With the right editing apps, you can turn a good photo into a great photo in a matter of minutes!
Whether you're looking to enhance colour, crop or make adjustments – there are a number of apps available to help you do just that. With this in mind, we've put together a list of our Top 5 favourite photo editing apps of 2021 or both iOS and Android devices that will work to elevate your photos simply, efficiently and effectively.
VSCO
Perhaps one of the most popular photo editing apps amongst the younger generations, VSCO cam takes our number one spot as the best free picture editing app.
Available on both iOS and Android, this minimalistic app features a simple, user friendly interface with a range of features. Its strongest point is the incredibly large selection of free, up-to-date filters. VSCO offers an in app camera, editing tools, photo gallery as well as an online 'VSCO' community. Adding that vintage, analogue film camera touch – the filters offered on VSCO provide a timeless feel, without the feeling that your photos have been over-edited.
Are you finding that the filter isn't quite suiting your image? No problem – you can adjust a number of individual settings using a slider for increased control. Settings include brightness, contrast, tone, temperature, shadows, highlights, cropping, borders and vignettes to name a few.
Once you're happy with your final product, you can either export it to your camera roll or share it with the VSCO community. You can also share to other social media platforms like Instagram, WhatsApp or Twitter, using their built in sharing feature.
Download for Android, Download for iOS
Adobe Photoshop Lightroom CC
Up next we have Adobe Photoshop Lightroom CC – a great app for intermediates and professionals looking to make some fine tuning adjustments to their photos. What's great about this app is the ability to carry out personalized, professional editing in high resolution.
Available on iOS, Android, Mac and Windows, Adobe Lightroom works with a number of photo file types – including RAW images.
Unlike most apps, Adobe Lightroom caters to a specific audience and doesn't try to please the masses. Essentially, if you're looking for increased control over the specs of your images, this is the program for you!
If you'd like, you can also subscribe to the Adobe Creative cloud, where you can gain access to additional editing features like the Adobe Sensei and selective editing. If you run into any problems navigating the app or program, there are a number of walk-through tutorials available online.
Lightroom for Android, Lightroom for iOS, Lightroom for Desktop
Snapseed
Available on both Android and iOS, Snapseed is another great app for professional photographers looking to make high resolution, professional edits to their photos. With over 29 different tools and filters, JPG and RAW functionality as well as the ability to create presets – it's clear to see why this is in our Top 5 selection. Another great function is the 'precision masking tool' that allows for blurred backgrounds and the addition of depth to your pictures.
Snapseed allows users to easily edit their work using stacks or layers. These allow individual edits to be removed, rearranged or shifted. If you prefer to use premade edits, there are a variety of existing Snapseed filters, brushes and editing tools that will undoubtedly take your photos to the next level. You can also share you work across a variety of platforms using the export tool.
We'd say the only noticeable downside to this app is its lack of an auto-save feature. What could be regarded as both a pro and a con, is Snapseed's aim towards more professional, experienced users.
Snapseed for Android, Snapseed for iOS
Adobe Photoshop Express
This readily accessible, easy to use sister of well-known Adobe Photoshop is every photo editors dream. Available on both iOS and Android, this free app features a faultless user interface and functionality. Functions offered include the highly sought after straighten and flip tool – not often found in most editing apps. Known as the developer for designers,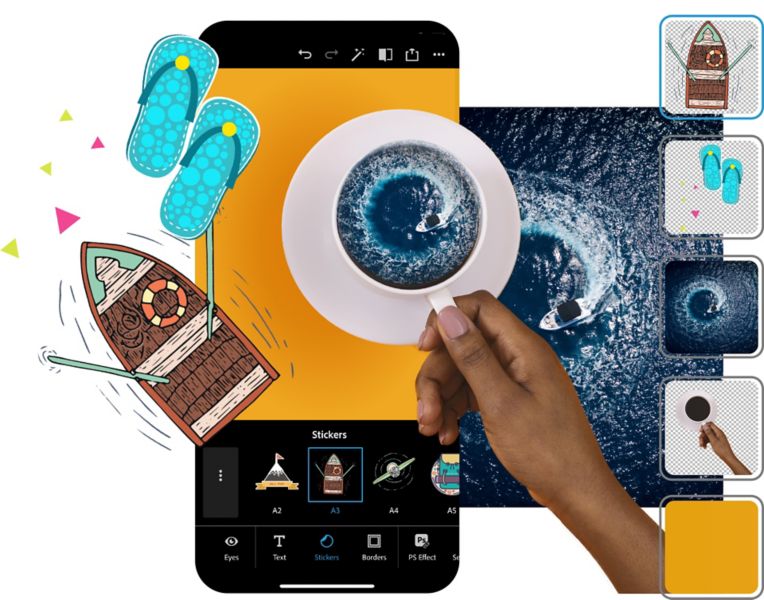 Adobe includes a number of advanced tools in Photoshop Express including advanced cropping, red eye correction, borders, saturation and smart filters to name a few. Smart filters are autocorrect filters that work to automictically correct any existing issues in your photo such as temperature or contrast.
You can take photos in the app itself, upload one from your camera roll or import one from your Adobe Creative Cloud account. Once edited, you can export your picture directly to your camera roll or share it to various social media platforms. Before you can use the app however, you will have to register for a free Adobe ID.
Photoshop Express for Android, Photoshop Express for iOS, Photoshop Express for Desktop
Afterlight 2
What began as a paid app is now available on both iOS and Android for free. Afterlight 2 coins itself as the 'all in one, feature packed' editing app which we think we'd agree with. Offering its own modified camera UI, you can manually change camera settings such as white balance, shutter speed and focal length.
Keep in mind that these are pro features not often seen in free editing apps. Of course, Afterlight 2 also offers the basic editing tools such as contrast, brightness, saturation and tone to name a few. Added functionality of this app includes adding and customizing text, over 70 frames and countless filters.
Famous for its 'vintage' effects, Afterlight 2 is sure to add a special touch to any of your photos – offering various textures, prism effects, light leaks and dust film overlays. Afterlight 2 is also compatible with both JPG and RAW files on both iOS and Android.